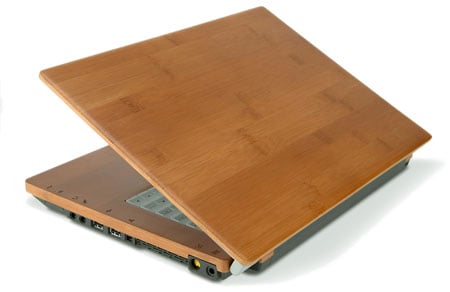 ASUS has taken the whole idea of eco-friendly to a whole new level by showing off a line of notebooks that are bio-degradable. These notebook shells are made of various materials, including wood, bamboo and recycled paper!

I guess that everyone is catching on to the idea that users don't only want dull beige/black boxen. But this really takes the cake. It would be really nice if we totally got rid of all the metal and plastic in computer cases and replace them with wood and paper.

There isn't any structural reason not to. It's mostly a cost issue. It's still cheaper to spit out an injection moulded plastic case than to cut and carve out the same casing from wood.

I'm fairly amazed at this effort by ASUS. These are interesting times, indeed, for laptops. Not only are new laptops being released, there is a lot of effort going into the aesthetic aspects of the design. There might actually be some money to be made in selling custom designed shells.

PS. It's now raining cats and dogs here. Unbelievable!